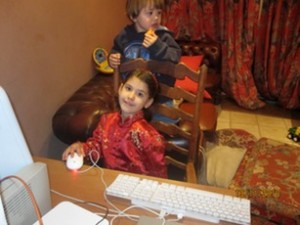 Child's Eye Line UK is celebrating after Sky Broadband and TalkTalk announced they will be blocking porn by default unless an adult opts out.
The campaign has been lobbying the government to better protect children from harmful content online after research showed that nearly all 11 year olds in the UK had seen online porn.
Sky's Broadband Shield is designed to filter out content deemed to be unsuitable for children aged under 13. It has been offered as default to new customers for a year. But now the firm has decided to also offer it to all its existing customers, some 5.3 million in total.
In her blog post, Lyssa McGowan, Sky's brand director, explained why it was changing its policy. "What we're doing now is simply making sure that the automatic position of Sky Broadband Shield is the safest one for all – that's 'on', unless customers choose otherwise," she said. TalkTalk have recently announced that they will be following suit by blocking porn by default.
Kathy McGuinness, founder of Child's Eye Line UK, told BBC 5 Live: "We have campaigned hard on this issue for two years and we are so pleased that the leading ISPs, first Sky and now TalkTalk, are putting child welfare before profit. We welcomed the government's comments last year that children's exposure to porn is an urgent public health issue and we have supported Baroness Howe's Bill in the Lords to make opt out porn filters mandatory. It's great to see the ISPs taking the lead to protect children.
"This isn't censorship, as some argue, as adults will be free to access pornographic and sexual content if they choose to. It simply means porn is a choice rather than a default 'on' that children are exposed to."
89% of online porn commonly viewed by children involves violence against women and girls and nearly all 11 year olds are now estimated to have seen online porn (figures from Ofcom's Children's Media Literacy Tracker; a survey commissioned by the centre-left Institute for Public Policy Research think tank and EU Kids Online II).
The NSPCC says it saw a 65% increase in boys ringing its Child Line service last year because they have been traumatised by images they have seen online.  Other statistics from the NSPCC suggest children are influenced by porn that they have been exposed to: 75% of teenage girls experience emotional violence in their relationships while 25% of teenage girls experience physical violence. 1 in 4 children believe violence in a relationship is appropriate and 1 in 3 children have sent a sexual picture of themselves to a third party. The Lord Chief Justice recently cited online porn as a significant factor in cases of child on child rape, violence and sexual abuse.
Claire Lilley, policy advisor at the NSPCC, speaking about the rise in child on child sexual violence, commented:  "In some cases older children are attacking younger ones and in other cases it's sexual violence within a teenage relationship. We know that easy access to sexual material is warping young people's views of what is 'normal' or acceptable behaviour."
About Child's Eye Line UK:
Child's Eye Line UK is a campaign run by volunteer parents fed up of their children being confronted with sexualized and degrading images in their local shops and supermarkets.
The campaign has cross-party support from MPs and leading teaching unions and children's charities.
A recent government report by the Children's Commissioner, "Basically, Porn is Everywhere" 2013, found that exposure to sexualized images is "damaging to children, negatively affecting their sexual development, relationships and self esteem and makes risky sexual behaviour more likely." The images and content found in publications like The Sun, The Star, The Sport and lads' mags were also linked with attitudes that underpin violence against women.
For interviews and more details about Child's Eye Line UK, please contact:
info@childseyeline.org
www.childseyeline.org
Facebook: https://www.facebook.com/ChildEyes
Twitter: @ChildEyesUK
read more